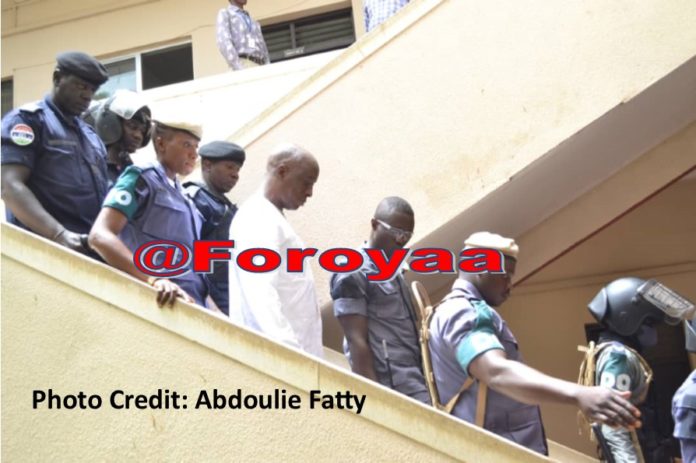 By Nelson Manneh
State Lawyer Abdul Maita Yusuf on Thursday, 25th June 2020 continued his cross-examinations of Yankuba Touray's sister-in-law, Awa Minteh.
When the case was called before Justice Ebrima Jaiteh of the Banjul High Court, Principal State Counsel A.M. Yusuf and Counsel M.B. Sowe announced their appearance for the state, whilst Counsel Abdoulie Sissoho appeared for the accused person.
Touray, now at 53 was a long-serving Minister of Local Government and Lands. Retired Captain Touray was also a member of the Armed Forces Provisional Ruling Council (AFPRC) after they overthrew the PPP 30-year old government..
The former military officer turned politician was accused of the murder of former Minister of Finance, Ousman Koro Ceesay under the AFPRC reign. The prosecution alleged that Touray used a pestle-like weapon to murder Ceesay in June 1995 at his (Touray's) residence. Touray denied any wrongdoing as he pleaded his constitutional immunity, but the court entered a plea of not guilty for him.
Awa told the court that the members of the AFPRC Ruling Council were Yahya A.J.J. Jammeh the former President, Sanna Sabally, Sadibou Hydara, Edward Singhateh and Yankuba Touray.
The witness said in 1995 Sanna Sabally and Sadibou Hydara were out of the AFPRC Ruling Council while Kabba Bajo and Ebou Jallow joined the ruling council. She said Kabba Bajo served as the Minister of Interior and Ebou Jallow was the spokesperson at the time.
"Can you remember what happened 25 years ago?" Yusuf asked.
Defence witness one responded in the positive, adding that on the 25th of June 1995 it was reported that Ousman Koro Ceesay a former Minister was dead.
Awa Minteh said she remembered Jally Musa Sonko and Ensa Mendy. She added that Ensa Mendy replaced one Nuha Drammeh, but she doesn't know that Nuha Drammeh.
She said when Yankuba Touray was appointed as a Minister, his first drivers were Abdou Bah, one Carlos and Lamin Ndour but she doesn't know who came first. She said one Pa Colley later became Touray's driver.
The State Prosecutor asked the witness which school she was attending at the time and how she (the witness) used to get to school. The witness replied that she was going to Serrekunda Primary School, adding she used to walk to school.
The case was adjourned to Monday 29th June 2020 at 11 am for the continuation of the cross-examination.
A.M Yusuf and Muhammed B. Sowe represented the Attorney General while A. Sisoho appeared for the accused person, Yankuba Touray.