By Nelson Manneh
President Adama Barrow has on Monday 13th September 2021, inspected and handed over twenty (20) new ambulances to the Minister of Health, Dr. Amadou Lamin Samateh.
The 20 ambulances are part of the 80 ambulances procured by the government in 2021 to strengthen the country's health system. Government officials said they are expecting another 25 in two weeks' time and all the 80 ambulances will be in the country by November 2021.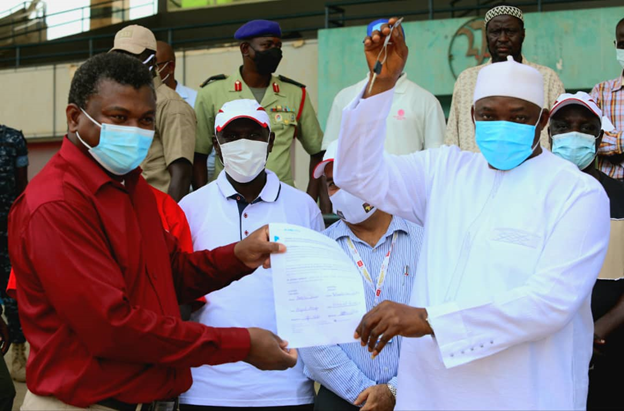 Minister Samateh said prior to the procurement of the 80 new ambulances, his ministry was having about 67 ambulances.
"Let's imagine how the health sector will look like if all the eighty ambulances arrive," he said.
Minister Samateh said it is sad for them as a ministry to hear that pregnant women in some parts of the country are transported to hospitals with donkey-cats or horse-cats.
"These ambulances will help to reduce maternal mortality and ease the movement of patients from their communities to the various hospitals especially in the rural communities," he said.
Minister Samateh said the new ambulances will be stationed in various communities to ease the movement of patients.
"We have already prepared a distribution list that will be used for the distribution of all the ambulances as they come to the country," he said.
After inspecting the ambulances, the ministry said all the ambulances have first aid equipment that health care workers can use to attend to patients before they reach the health facility. He said the ambulances are strong and economical because they can serve for a very long period if they are well taken care of. He urged the public to take good care of the ambulances.
"The ambulances are here for all of us and they need to be treated as government properties so that they can stay longer to serve their purposes," he said.