By: Aja Musu Bah-Daffeh
President Adama Barrow on Wednesday 6th October, 2021 donated two buses to the 19th Executive Council of the University of the Gambia (UTG) students' union.
The buses were officially handed over to the students' union by Dr Pierre Gomez, the acting Vice Chancellor of UTG through the Director of Facilities, Mr. Alieu Darboe.
Dr. Gomez said the donation of the buses is in fulfillment of the government's promises in supporting the students to ensure better learning takes place. He added that UTG management will also buy 2 additional buses, noting that their fleet o buses will double from four to eight.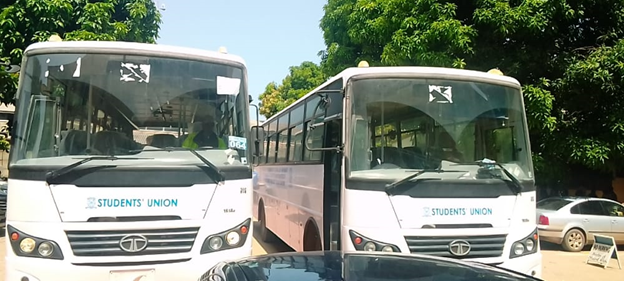 Gomez expressed his hope that the students will make good use of the buses for the interest of the university community.
The Director of Facilities, Alieu Darboe, who is responsible for the university's fleet of transport, expressed delight for receiving the buses from the president.
He said students annually have dozens of requests for transport, saying the new buses come at a good time when the UTG's four buses are not in good shape. The new busses will thus alleviate the transportation challenges students are facing.
"It is my primary responsibility to take care of the buses and to make sure that necessary policies, guidelines and personnel are available to take good care of the vehicles on behalf of the students and to advise them as to how to best use them," Director Darboe said.
He revealed drivers will be hired for the new buses and the other two the management will buy.
Ousman Jassey, the president of the UTG students' union, acknowledged President Barrow and his government for the donation.
Jassey said some months ago, the students' union wrote a request to the president through the management that they needed buses in order to ease transportation for the students. He thus thanked the government for responding positively to their request.
"This reaffirms the government's commitment to support higher education, demonstrating and equally supporting the students of the UTG. These buses have been given to us to ease the transportation challenges and it's a collective responsibility from both the management and the students to see that the buses are kept in good shape," he said.
The students' union's president said they have had a number of buses in the past but they were not durable. He said this could be attributed to the manner in which they were handled.
Jassey also tasked the students to take good care of the buses, while hoping that under the new leadership of the director of facilities, the buses will be properly taken care of and be regularly serviced to ensure they are kept in good condition.