By Mustapha Jallow
Personnel of The Gambia Police Force (GPF) have detained 4 foreign nationals for allegedly stealing diamond, gold, a car, twenty-seven thousand dalasis (D27, 000) and thousands of foreign currencies from their employer.
The disclosure was made during a parade of the detainees at the Police Anti-Crime Unit camp in Bijilo on 10th June 2020.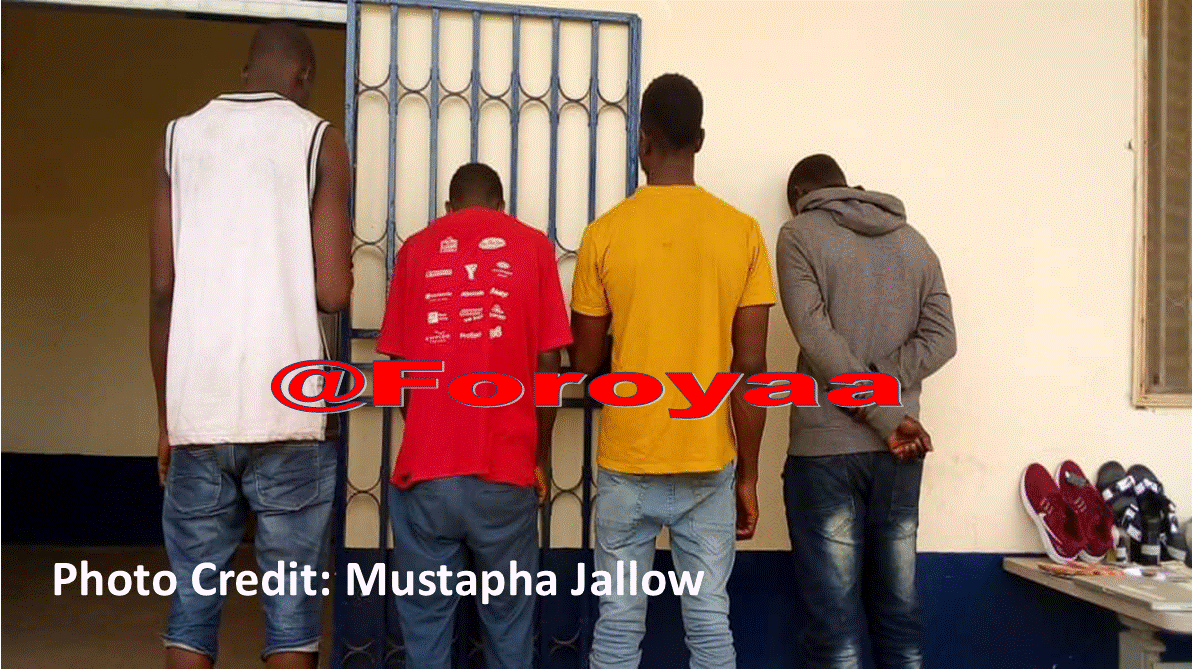 Police spokesperson Superintendent (Spt.) Lamin Njie said the suspects were charged with break-in and stealing. He said these detainees will as soon as possible be arraigned in court.
Narrating how the detainees got to their net, Spt. Njie said it all started when a complainant reported to the Police that his house was broken and items were stolen.
He said: "Unspecific amount of monies were taken from this place by these individuals – such as diamond, gold, foreign currencies, Gambian dalasis, a car registered with BJL 5844 M and other items. The complainant was not able to tell us how much was exactly stolen from him.''
He added that an investigation panel was set-up to investigate the matter diligently with leads provided to the Police until suspects were arrested few week ago.
He said the individuals involved in the theft were Cherno Ngum, a Senegalese national, Alasana Krubally, a Malian, Yankuba Tangara a Malian and Alieu Tangara a Malian as well.
"These detainees were all employees of the complainant,'' he said.
The Police spokesperson explained that following a tip-off, Police investigators arrested one of the suspects in Farafenni.
He added that this happened as a result of collaboration between the Gambia Police Force and the Senegalese security forces – who arrested the individual in Senegal and handed him over to the state security agents at Farafenne.
He continued to say that this led to the arrest of the other three suspects and the stolen items were all recovered from them.
He urged people whose items were stolen to go to the Anti-Crime Unit and collect their properties – as a lot of television sets are still with them, but they do not know the owners up to date.
"These items have been with us for quite a while. So, we want to encourage people to come forward and identify these, so that we should be able to return them to the rightful owners,'' he said.
Police spokesperson further asked the general public to cooperate with the Police over the items.