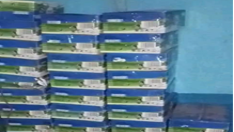 By Nelson Manneh
Police in Jarra Soma have confiscated cartons of suspected expired milk powder from a shop owner, on the 7th of December 2022.
Cadet Superintendent Binta Njie who confirmed this story to Foroyaa, said the forty seven cartons of milk powder, was sold to a Lebanese shopkeeper by a Gambian businessman, who was reported to have allegedly tampered with the original expiry dates of the product and inscribed new expiry dates on the cartons.
"A preliminary investigation was swiftly launched into the incident and police in Soma visited the store of the alleged seller, where other cartons of milk powder were found," the police stated.
Accordingly, the police indicated that officials of National Food Safety in the region were informed and are now working with the police for more investigation.
The police therefore warns the general public, especially food vendors and sellers, to desist from selling expired products to consumers as this can pose health insecurity in the country.