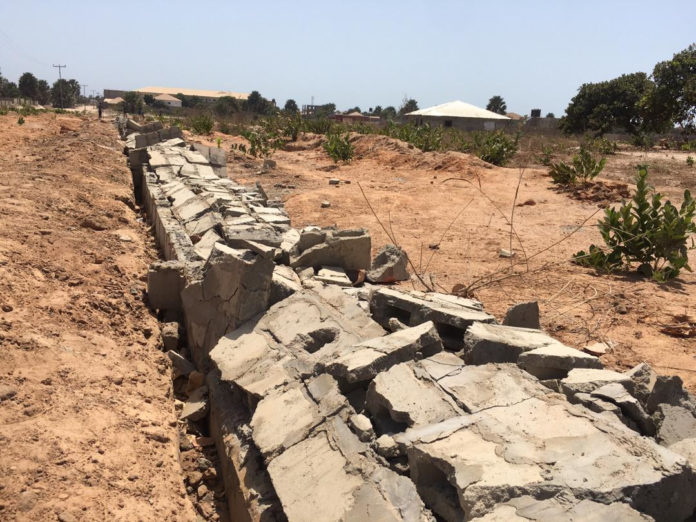 By Mustapha Jallow
Dozens of houses and fences have been demolished in Sukuta-Salagi as the police clashed with the residents over land dispute.
At least 15 people were arrested by the Police and held briefly at Brusubi Police station before they were granted bail.
Conflict between settlers and the authorities over land remains a source of tension and domestic violence as residents of Sukuta-Salagi said they will not move from their settlement after the state asked them to leave the areas.
This shows that the conflict between the settlers and government still remains, as angry youths claim ownership of the settlement.
During a visit to the area – where the tension occurred, one of the affected persons who spoke on behalf of his colleagues said on 19th May 2020, at 2-3pm officials of Physical Planning with escort by Police Intervention Unit stormed their residences and started demolishing their building-structures.
They said this resulted to tension between them and the law enforcement – "they started with 'our fences', we resisted and they fired teargas." He said angry youths were throwing stones at the security forces.
He explained that the people of Sukuta had built houses on the disputed land, but Physical Planning officials claim the land is reserved land.
Police spokesman ASP Lamin Njie said Physically Planning learned that people are selling this reserved lands and developing them.
He added: "The officials had issued a press release sometimes ago. I could remember when they asked those people to stop that and if they don't stop they will go ahead with a demolition exercise without giving them notice."
Suddenly, he said the officials went ahead with this exercise throughout the estate in Salagi.
He explained that the procedures are when demolition exercises are to be carried out- they will apply for security backup from the Police and "we will give them to enable them conduct the exercise. "
According to ASP Njie, as the officials go to the demolition ground in Salagi, a group of people came from Sukuta trying to obstruct the process.
Even though, he added, the Police had engaged them into adequate discussion they didn't adhere the Police, so the Police had to used reasonably means to disperse them from that place, to let them exercise continue.
"Eventually that was done and we decided to put some security presence around that area to maintain the peace," he said.