By Fatoumatta K Jallow 
Grocery stalls on the highway near Palma Rima were demolished yesterday by the PIU officers putting on plain black clothes. The demolishing took place from 12:00 noon onwards. 
Speaking to Foroyaa, Muhammed Camara owner of one of the grocery stalls, said he has been selling at that place for the past 15 years or more when that place was just like a bush.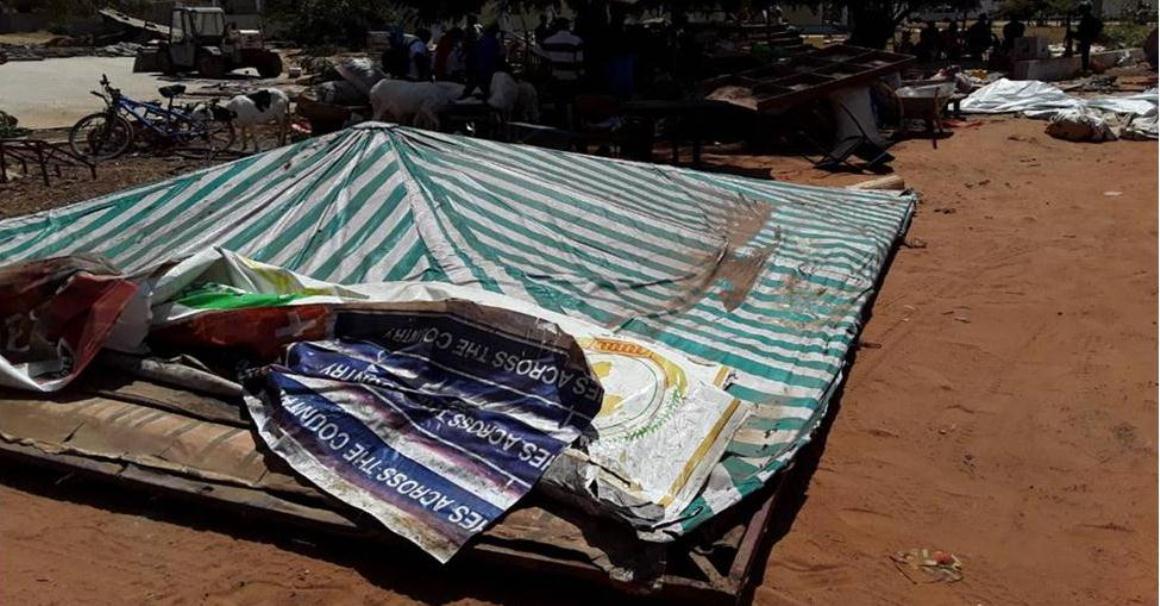 "I sell fruits and vegetables, but due to the demolition exercise, many of them may get spoilt. I spent money worth 120,000 Dalasis to buy them. As for today I don't have anywhere to take my groceries. I may spend the night here to take care of them," said Muhammed.
He said last week he received a letter from the Physical Planning Department, saying that they should move out "which is too prompt". "Then today I saw some PIU men saying they are sent to demolish the shops, carrying with them weapons and all sorts of things," he added.
"I registered my business and pay tax. Not even a year has passed without me paying and they never told me it is illegal to sell here. This is where I have my source of livelihood with my wife and children and I have some employees too who depend on this business. 
He lamented: "This is what the "New Gambia has shown us, that they are here to destroy our wealth." 
"I am telling Gambians that the new Gambia is here to destroy rather than encourage and help us. There are no jobs and while we are creating jobs for ourselves, they are destroying everything. What should we do next," he asked. 
The employees of the demolished shops said the demolition has shocked them; that seeing the PIU demolishing their shops is very painful and the worst is not knowing where to go. "The demolition is really affecting us and will continue to affect us. Our whole life depends on what we are selling here. We (the youth) have graduated with degrees but are without jobs and now that we have created jobs for ourselves, they have been taken away from us," he remarked. 
They urged the New Government to look into their plight and help them because their lives now depend on them.
Speaking to Foroyaa, the wife of one of the grocers said she is hurt. She said she is thinking of her children because their source of livelihood depends on the small things they do and now that the shops are demolished they don't know what to do. 
She said new Gambia has disappointed them and she urged the government to do something fast for them to have a place to sell because this is what they depend on. 
Efforts will be made to speak to officials of the Physical Planning Department today to get their point of view.