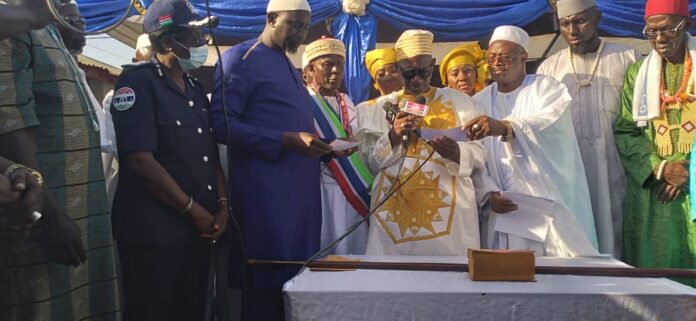 By Hatab Nyang
On December 25, 2021, Falalo M. Touray was inaugurated in Gunjur as the new chief of Kombo South District of West Coast Region. He replaced Lamin S. Darboe as the Chief of Kombo South District.
Falalo Touray is a trend setting agriculturist and educationist whose contribution to national development covers such diverse fields as Relief Aid, Education, Health, Religious Activities, Rural and Community Development.
Falalo was born on the 13th July 1953 in the coastal town of Gunjur in West Coast Region. Mr.Touray holds Higher Diploma in Farm Management and Extension as well as a Diploma in Agric Implementation Management of projects. The determined Falalo started his education journey at Gunjur Primary School from 1960-1962 from there he moved to Sukuta Primary School from 1962 to 1966.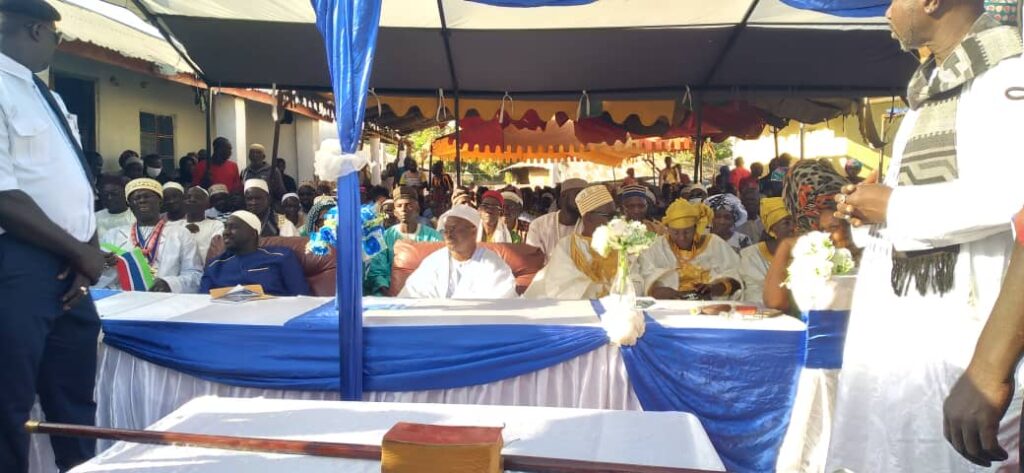 In 1966 he proceeded to Latrikunda Secondary Technical School where he obtained his School Leaving Certificate. He later enrolled into the then Yundum College for his certificate in General Agriculture from 1975 -1978.
In August 1988 he went to International Agric Centre, Wageningen in Holland for his certificate in Fertiliser Use and Rural Extension. In 1990 he continued at the College of Agriculture, Ahmadu Bello University in Nigeria and obtained Higher Diploma in Farm Management and Extension. From 1994 to 1995 he enrolled in the University of Reading in UK, where he acquired MSc in Agriculture Extension and a certificate in computer development. In August 2006 he also obtained a Diploma on Implementation Management of Projects in Illinois State University in USA and certificate in Regulation of Micro-Finance Institutions.
Mr.Falalo Touray at the event, after given felicitations to the distinguished guest at the gathering, asserted that Kombo South belongs to all the people of Kombo South and not only Gunjur where he hailed from, that they need to come together to develop Kombo South. All the Chiefs of West Coast Region (9 of them), Alkalolu of Kombo South were present at the event.
He noted that a country cannot be developed without a government but that only one government is mandated to manage the affairs of the nation.
He further said it is better for an Alkallo or Chhief to resign than not to support the government of the day, because it is the government who can bring development to your village, town or District in terms of creating good roads, good schools, electricity, water etc
He appealed to the people of Kombo South to come together and develop their District as Kombo South District belongs to every native in the district irrespective of ethnolinguistic origin.
On the event the Permanent Secretary of the Ministry of Regional Government and Lands, Mr.Buba Sanyang who coincidentally happens to be a native of Gunjur too, was the one who swore in Mr.Touray.
On his deliberations at the said event, Perm. Secretary Sanyang said thati Chieftaincy is the only position in government authority which has two functions in the arms of , that it has both executive and judiciary powers.
He said most problems in the Kombos revolve around land. He continued to state that land can belong to someone in four categories. Either through land tenure system, sale, gift or grant by the government. He emphasized that people should make the work of the local authorities easier by not selling the same land twice or thrice. He warned Alkalolu to be careful not to stamp the same land papers twice or thrice without the consent of the owner.
Alkalo of Gunjur ,Mr. Dembo T Tuttiba Darboe on his part said he thank the Allah for a day like this to come. He emphasized that
Governor of West Coast Region, Mr. Lamin Sanyang said that they will empower Chiefs in the country to build courthouses and prisons as before. He said their government will start doing this from 2022.
Other speakers like the Paramount Chief, Momodou Bojang expressed similar sentiments.
The occasion was graced by dignitaries like Majority leader of the National Assembly, Kebba K. Barrow, the Imam of Gunjur Imam Lamin Touray, musical cultural groups, etc .