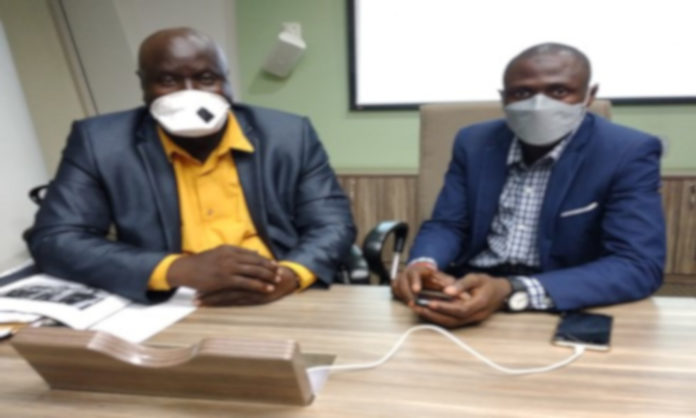 By: Kebba AF Touray
The National Disaster Management Agency (NDMA) yesterday updated the National Assembly Select Committee on Health on the situation of COVID-19 humanitarian response in the country.
Sana Dahaba, Director NDMA informed the legislative committee, that an Inter-Ministerial Committee has been set up at the level of the cabinet to coordinate the distribution of relief package to the most vulnerable people.
"At the level of the Technical Committees, Permanent Secretaries, Director Generals and Executive Directors and Coordinators, are working at the committee level, based on their comparative advantage to respond to COVID-19," he explained
Director Dahaba averred: "In addition, a multi-sectotoral committee was also established, on procurement, logistic, monitoring, grievances and communication. This gives the coordination framework as far as COVID-19 is concerned".
Kawusu Barrow, Monitoring and Evaluation Officer, said the framework aims to build resilience of the vulnerable population during the restriction period, reduce spread of the pandemic and encourage stimulus in the households and the macro economy.
He said: "The distribution of the food aid targeted a total household of 235,767 constituting 84 percent of the national households. Stock required, total bags of rice (50 kilo) 229, 845, total of oil (10 liter) 147,494 gallons and a total of bags of sugar (50kg) 229,845, costing D731,201,696".
In quantifying, he said, "the national total estimate metric tons of rice is 11,543, 11543 tons of sugar,1480 ton. The total tonnage for the Local Government Areas is 24,565 with a total transport cost of D47, 982,867".
The food items will be distributed as follows: for a household family of 4, 25kg of rice, 25 kg of sugar and 5 litres of oil; for a household of 5 to 10, 50kg rice, 50kg sugar and 10 litres of oil, for a household of 11 to 15, 75 kg of rice, 75 kg of sugar and 15 litres of oil; for a household of 18 or more 100 kg rice, 100 kg sugar and 20 litres of oil. Barrow indicated that their distribution process is faced with challenges and these include logistics, household data and large number of distribution centres.
Committee Members who took part in the engagement hailed the Disaster Agency for the proper coordination mechanism they have devised to ensure that the food aid reaches the most vulnerable in the communities as far as COVID-19 restriction and crisis is concerned.
They also cautioned the disaster agency to do its utmost and ensure that the distribution process is apolitical, using the right people and right channels, to meet the purpose of the relief package.
Ousman Sillah, Chairperson of the Health Committee, also tasked the Agency to ensure the implementation of the coordination process, adding that if it is fully implemented, equitable distribution will be attained and that there wouldn't be outcry regarding others being left out of the relief package.