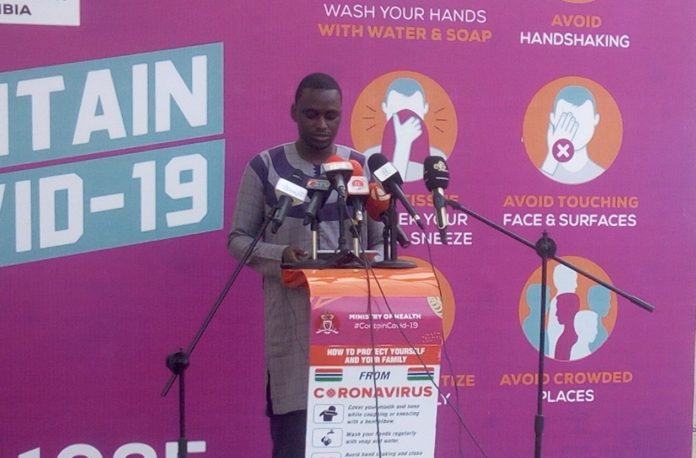 By Nelson Manneh
As part of logistics and safety, the Ministry of Health (MoH) has supplied all Ministries with infra-red thermometers.
Dr Mustapha Bittaye the Director of Health Services at the Ministry of Health said plans are underway for the distribution of hand-washing materials donated by the United Nations (UN) Agency in the country, to all health facilities, border posts and ferry crossing points across the country.
"Sanitary and hygiene materials and other detergents have been equally distributed to border posts and other public places. One hundred and thirty buckets have also been distributed in strategic places such as car parks and markets," Dr. Bittaye said.
On surveillance and laboratory work and tests, Dr. Bittaye said all probable cases will be re-sampled and tested in two days' time, to conclusively determine their status; that a second mass screening day in Bakau was successfully conducted and two hundred and thirty-one samples were collected during the exercise.
On risk communication and community engagement, Dr. Bittaye said fourteen communities and four hundred and sixty households were sensitized and engaged on COVID'19 preventive measures by using existing community structures.
"Summary of calls made to 1025, were two hundred and ninety-five; two hundred and seventy were related to COVID-19 while the other twenty-five were non COVID-19 related. Eight were booked for further follow-ups by our contact tracing teams and eight others were booked for further follow-ups by the quarantine team.
Dr. Bittaye said the Ministry of Health will extend the mass screening exercise to regions with confirmed COVID-19 cases such as the Central River Region (CRR), North Bank Region (NBR) and the Upper River Region (URR).
"The Ministry of Health wants to ensure that there is synchronize cross-border surveillance systems with Senegal and the inclusion of the Immigration Department in the RRT to facilitate the deportation of non-Gambians sneaking into the country," he said; that they will conduct thorough contact tracing at the North Bank Region Health Centre, in order to trace all possible contacts of the recent cases who came into the country through Farafenni and strengthen surveillance at all border points of entry.
"We will engage all private pharmacies to report clients presenting flu-like symptoms to the RRTs," he said.