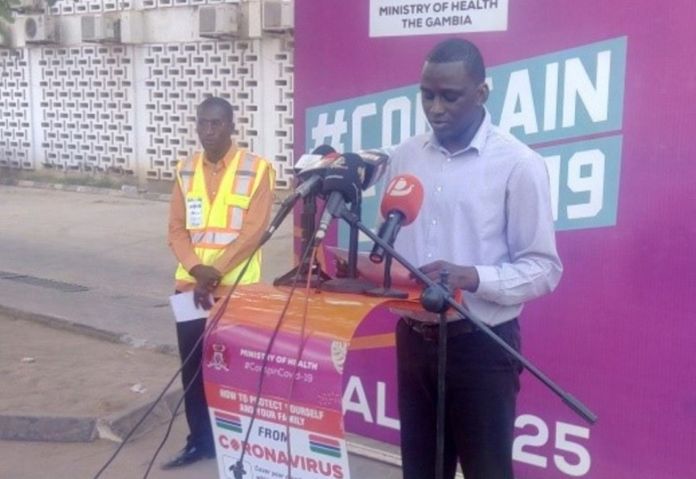 By Nelson Manneh
The Ministry of Health (MoH) on Thursday 21st May 2020, received two consignments of donated medical items including Personal Protective Equipment (PPEs) and hand sanitizers from the United Arab Emirates (UAE).
The Ministry also received a second consignment of donated items from the Jack Ma Foundation through Africa CDC which includes PPEs and two ventilators.
The inventories and verifications of the donated items according to the Director of Health Services Dr. Mustapha Bittaye, is ongoing to confirm the materials and quantities of the donated items.
"Various security activities were conducted across the country to actively engage the public especially market areas, to practice social distancing and to restrain them from price hikes," he said.
Regarding the next step of the Ministry in their fight against COVID-19, Dr. Bittaye said the Kartong Border Post and other POEs will be supported with motorbikes to ease their mobility.
"Enforcement of the letter and spirit of the restriction orders contained in the state of emergency declaration and to strengthen surveillance at all points of entry, is the next step of the Ministry of Health in the fight against Covid-19," he said; that they will also consider testing low-risk contacts upon completion of their mandatory follow-ups, before discharging them.
Dr. Bittaye said four communities and one hundred and twenty-three households were sensitized on COVID-19 preventive measures using existing community structures; that the inter-agency psycho-social task team in consultation has visited all seven health regions in the country, to assess their support needs.
Dr. Bittaye asserted that the state of public emergency regulations, are still valid and urged the general public to observe social distancing.
"We encourage the public to continue to cooperate with the authorities on matters related to COVID-19 and its associated preventive and precautionary measures," he noted.