The 'Janneh' Commission of Enquiry set up by the president to probe into the financial dealings of former president Jammeh and his close associates, on Wednesday October 24th 2018, visited the home village of the former president for the second time, to assess and see for themselves, the situation of the properties he left behind and the state or condition they are in.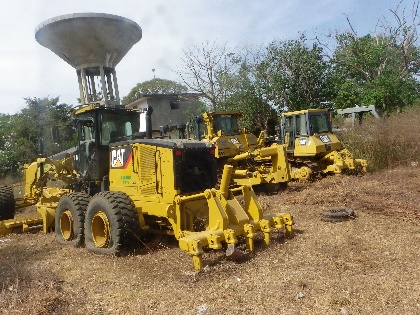 The tour party which include some staff of the Commission with the Chairperson Surahata Janneh and Commission Counsel Amie Bensouda, visited various sites and unfinished projects, left behind by Yaya Jammeh. The Commission delegation visited the crocodile pool, an ambitious but unfinished Agric. Project site with an unfinished overhead water tower, and a huge unfinished mansion project, all left behind by the former president, some of which have since started to dilapidate. The delegation was led on a conducted tour of the huge unfinished mansion left behind by the former president. The huge unfinished mansion houses several suites and luxury rooms with lots of luxury furniture that has started losing quality. Documents left behind were also inspected and taken by the Commissioners as evidence including a bag full of what resembles 'gold' coins. The Commissioners visited the crocodile pool, where some huge crocodiles can be seen to have survived during the absence of the man who brought them there. Some other animals can also be seen to have survived including peacocks etc.
At all the sites visited, immense wear and tear can be seen on the properties including equipment, due to lack of proper upkeep and maintenance.