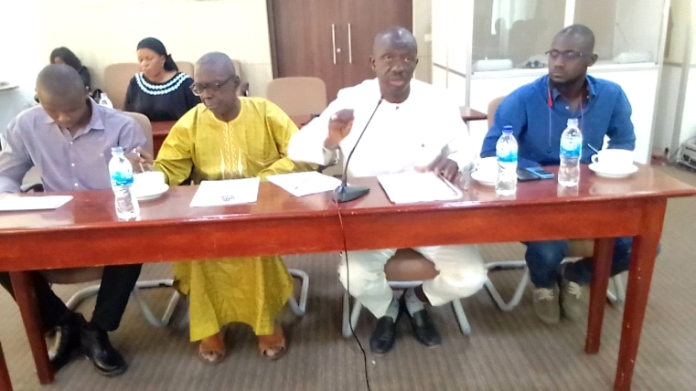 By: Kebba AF Touray
Mr. Lamin Jassey, Director of Finance at the Janjang Bureh Area Council, has disclosed to the Finance and Public Accounts Committee (FPAC) of the National Assembly that the Council generated total income of twelve million five hundred and thirty-one thousand, one hundred and twenty-four dalasi and thirty-six bututs (D12, 531,124.36) in 2019.
Mr. Jassey reported this on Tuesday 31st January 2023 at the National Assembly, during the appearance of members of the Area Council before FPAC, for the presentation of their activity report and financial statements for scrutiny, consideration and adoption. He said total revenue for the Janjang Bureh Area Council in 2019, was D12, 531,124.36 but that total expenditure for the year 2019, was D12, 531, 124, 38; that out of the expenditure, Council spent one million, two hundred and ninety-six thousand, five hundred and thirty-two dalasi and sixty-four bututs (D1, 296,532.64) on the office of the Chairperson and other allowances.
Pa Sait Ceesay, the Chief Executive Officer of the Janjang Bureh Area Council reported that the vision of the Council is to ensure a decentralized and empowered Local Government Area where equal opportunities and sustainable service delivery prevail for all.
"The mission of Council is to work in partnership with stakeholders to effectively deliver development to the people we serve, and to improve life and livelihoods," he told the Committee. He reported that among other development activities undertaken by the council during the period include but not limited to the payment of D1.2 million counterpart contributions to GAMWORKS for the construction of a market in Dankunku community. He added that during the period under review, the inspectorate unit of the council was upgraded to a department and a director appointed to head the unit, whilst the council continues upholding weekly senior staff meetings to discuss and report on their weekly activities.
"In an effort to improve our management system, policy documents and procedure manual aligned to financial manual was developed internally, as well as an internal audit manual, risk register and policy and disaster recovery plan," CEO Ceesay told FPAC.
He reported that the Janjang Bureh Area Council, is concerned with easy movement of goods and services within and outside its jurisdiction, and therefore put high priority on road construction, and have so far constructed two strategic roads within its jurisdiction.
"Due to lack of adequate funds the council would like to engage government projects such as NEMA, FASDEP and other donors to support the council in this endeavor," he said. That the roads are Kudang-Kuntaur, Santanto Bubu-Sare Soffie, Kundang-Kaolong, Sotokoi-Macca, Jareng-Anis Kunda, Dalaba-Papa and Bansang-Dobang Kunda, all within the jurisdiction of Janjang Bureh Area Council.
Mr. Bakary Trawally, Director of Audit, Municipality and Area Councils, reported to FPAC that they have noted claims without receipts in the tune of D47 thousand without supporting documents, and un-presented payment voucher, which were requested by the audit team but the vouchers were not presented to the audit team for their audit. He also noted that they noted mis-classified payment, adding that a sum of D26,0756.00 were mis-classified and ineffective internal audit department, which is not set up by the Council.
Without which he stressed the effective management of internal control by the council will not be achieved, as well as a vacant Council Clerk during the period under review.
According to Burang Kongira of the Gambia Public Procurement Authority, they recommended among other things that the Area Council enter into a framework agreement with routine procurement such as fuel maintenance, and establish an inspection and disposal committees by training of a Specialized Procurement Unit (SPU) for the filling of forms.
According to him from their analyzes and findings on the procurement transactions undertaken by the council, the councils found to be 79 percent compliant in the year 2019.