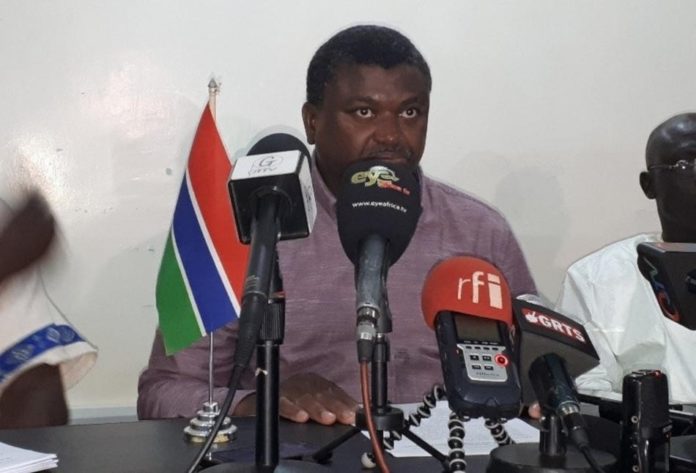 By: Kebba AF Touray
Dr. Amadou Lamin Samateh, Gambia's Health Minister, told Gambian Lawmakers on Saturday that it is projected that without social distancing, the African Continent is expected to have three hundred thousand COVID-19 cases within a year.
The projections by the Policy Analysis Unit of the President's Office, also indicates that 74-93 percent of the population might be affected.
Samateh also told the legislators that when the pandemic peaks, the continent is expected to have 3000 cases per day and 10,000 active cases in the Gambia.
He said with strict social distancing and assumption, there will be reduction in contact by 50 percent, they would expect a total of 1600 cases from 300,000 in a year and a total of 30 active cases per day at peak and the country would expect 6 to 7 new cases to be registered per day.
He said globally, a total of 24, 338, 658 COVID-19 cases have been reported out of which 297, 119 have been death registered and Africa has registered 54,190 confirmed cases with 1,623 deaths registered, while Senegal our closest neighbor registered a total of 2,189 with a total fatality of 23.
Samateh explicated: "The Gambia as of 15th May 2020 has registered 23 cases with one death. We have been carrying out a lot of contact tracing in this country, as it is the corner-stone of response in the prevention and containment stages".
He said "As at now the Gambia has conducted 1440 tests and have confirmed 23 positive test results. This means that as at now, we are doing about 700 tests per million people. The case definition has been modified and includes all symptoms of fever, cough, while travel history and history of contact are no longer necessary in case definition of suspected cases"
He said: "There are 13 Isolation centers and at present 20 ventilators ready for use when needed. The equipment that is supposed to be procured includes ventilators, X-ray machines, ultra sound machines, patient monitors, and 33 ambulances, to make our health facilities more robust to deal with COVID-19 and thereafter. The procurement process by both the World Bank and the Gambia Government will soon be completed and the equipment will soon be in the country".
He disclosed: "At the beginning of the pandemic in the Gambia, the projections on the disease were that we will have a total of 181 thousand infections at the peak and 3300 per day. But with social distancing we were expecting 53000 infections at the peak and 1000 infections per day".
He averred that the initial contact tracing was geared towards following people from hotspot countries before the commencement of quarantine and the people concerned were asked to stay isolated at home and were routinely followed by the health personnel for the development of COVID-19 Symptoms.
He said those who developed symptoms were tested and of those people 350 were followed within 14 days and the contact tracing is concentrated on following contacts of the confirmed cases and the contacts of the contacts, and once the contacts of the high risk is confirmed, they are quarantined and low risk cases are followed at home.
He said: "The target for contact tracing is 719 and 789 have so far been traced successfully. Of the low risk, a total of 105 were being followed and we went beyond to follow 109 cases. Quarantine started in early March 2020,"
He averred: "initially quarantine started with people coming into the country from hotspot zones, with challenges as many people were not cooperating, despite Quarantine is one of our interventions that has yielded dividend in the Gambia, as most of our positive cases were all confirmed whilst undergoing quarantine".
He said currently, the Gambia has 94 people in quarantine and 375 completed quarantine, while expressing joy with the visit of the Health and Special Committees of the Legislature to the quarantine sites.
He noted at present, they have spent D20 million on Quarantine Facilities and underscored that their containment efforts are going well, as they almost know the epidemiological link of almost all the cases and all known contacts have been traced and tested.
He said testing is the corner stone of the COVID-19 response and the recommended level of testing level is now at least 2 percent of the population and those countries that have done testing have tested 40-60,000 per million people.