By: Ndey Sowe
Groundnut winnowers around the Denton bridge most of who are women, narrated their plight regarding their work, to this reporter. The women most of whom lost the breadwinners of their families, said there is no other option of earning a decent income for their upkeep and that of their families, but to engage themselves in winnowing.
The head of the group of women winnowers Jainaba Barry, told this reporter that they were struggling to help their families, and their work involve removing the groundnut from the shells, with the aid of the wind; that after removing the nuts clean, they sell the shells to gardeners as compost manure for their gardens, poultry owners as ground spread for poultry liter and women fish vendors who used the shell to smoke fish.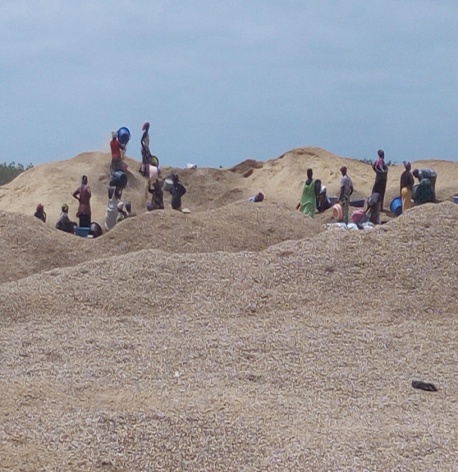 Madam Barry said they sell a bag of groundnut shells for D10, and a bag of cleaned winnowed groundnut for D920; that they sell the twenty five kilogram tin of tomato of clean winnowed groundnuts for D20 mainly to Senegalese buyers for export to Senegal; that the Senegalese know the benefits of winnowed groundnuts because they use it in their soap processing and animal feeding activities; that some of the winnowed nuts and shells is also transported to Cassamance for sale as poultry ground spread and feed for fish and cattle.
Barry however lamented that their work has seen some decline recently and business has not been good, that this poses a great challenge for them as breadwinners who have mouths to feed. Barry said they also make soap for cleaning, washing and other domestic purposes, for themselves.
She however admitted that the business is not profitable because all that they get is spent of responsibilities like paying house rent, School fees, fish-money and other expenses for the family. ''We toil day and night to meet our family needs, in place of our deceased husbands,'' she said.
''We work every day of the week, from 8'o clock in the morning to 6' o clock in the evening, with a lot of strength and sacrifice. We face many difficulties in this work and this is the only means of earning income we have. At times, we work but at other times, we go to home with nothing, even without fares to go home, not to talk of taking something to the family. We are urging Government to create job opportunities for our children. When our children get jobs, we will stay at home for our families and pray for them. Every parent wants his or her child to be the best. That is why we are here, toiling,'' she said. She urged Government to provide machines and other equipment for them,'' she concludes.