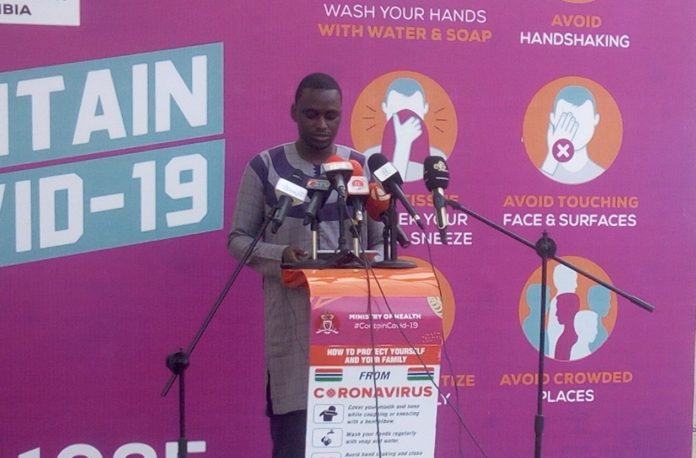 By Nelson Manneh
Gambian health authorities on Saturday, 2nd May 2020, confirmed that five people have contracted the Coronavirus.
This is the highest number of cases confirmed in a day so far in The Gambia and this time it included a reported case from the Central River Region and four local transmissions.
Since the outbreak of the Coronavirus known as COVID-19 late 2019 in China, it has affected over three million people worldwide including The Gambia with a total of seventeen positive cases confirmed by health authorities. Out of the Gambia's positive cases, one died, nine recovered and seven are currently undergoing treatment.
Dr. Mustapha Bittaye, the Director of Health Services said twenty-eight test results
that they received showed twenty-one negative, two probable cases and five positive cases of COVID-19. He averred that the two probable cases are linked to the twelfth case.
He explained that for the first time a COVID-19 a case has been reported from the Central River Region (CRR) adding that three of the recent confirmed cases were close contacts of the eleventh case and one was linked to the twelfth case.
The medical practitioner told the press that one of the COVID-19 patients has recovered and was discharged taking the total number of discharged cases to nine.
He said no new persons have been taken into quarantine adding two of those under quarantine have been released after completing their quarantine period still testing negative for COVID-19. He detailed that currently only seventy-two people are undergoing quarantine, seven active cases and two probable cases.
So far, since the outbreak of the virus late last year, Dr. Bittaye said a total of five hundred and fifty-five tests have been conducted in which seventeen tested positive, three hundred and sixteen completed their quarantine period, six hundred and ninety contact traces and three hundred and ten completed follow-ups.
Senegal, a country that surrounds The Gambia on the east, south and north, has registered over a thousand cases of the virus with nine deaths. Globally, over two hundred and thirty-nine thousand people have died as a result of the virus as the number increases every day. Also, over a million persons have recovered from the virus so far.