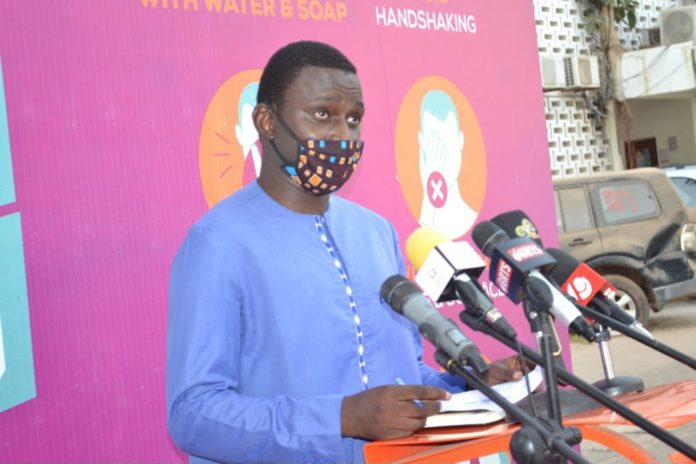 By Nelson Manneh
The Gambia has recorded six new COVID-19 cases bringing the total positive cases to 34.
Two cases were confirmed on Monday and four on Tuesday in addition to the three remaining active cases. The Gambia currently has nine active cases of the Coronavirus.
This was confirmed in a press briefing on Tuesday, 16th June in Banjul, organised by the Ministry of Health.
Since the outbreak of the global pandemic, The Gambia so far recorded thirty-four positive cases. Currently, there are two hundred and three persons under quarantine, nine active cases and one probable case.
"All the Confirmed cases were in quarantine on account of recent travel to affected countries," Dr. Mustpha Bittaye, the Director of Health Services said.
Dr. Bittaye said the nine active cases are in stable condition. The medical practitioner said thirty-three (33) laboratory test results were received from the National Public Health Lab (NPHL) in which thirty-two were new and one was a repeat test.
"Of these, while twenty-eight returned negative, four tested positive for COVID-19 and the only repeat test came out inconclusive," he said.
Director Bittaye said ten persons were newly taken into quarantine four new persons were discharged after testing negative upon completion of the mandatory quarantine period.
"The newly quarantined were intercepted from different border posts while attempting to enter the country from locations where local transmission is ongoing," he said.
Globally, Bittaye said since 31st December 2019 and as of 15th June 2020, a total of eight million one hundred and eight thousand six hundred and sixty-seven cases of COVID-19 have been recorded.
"Of these, four hundred and thirty-eight thousand five hundred and ninety-six deaths were registered and four million one hundred and ninety-six thousand nine hundred and eighty-one recovered from the diseases," he said.
He said Senegal recorded five thousand one hundred and seventy-three confirmed cases in which three thousand four hundred and twenty-four recovered and sixty-four died.