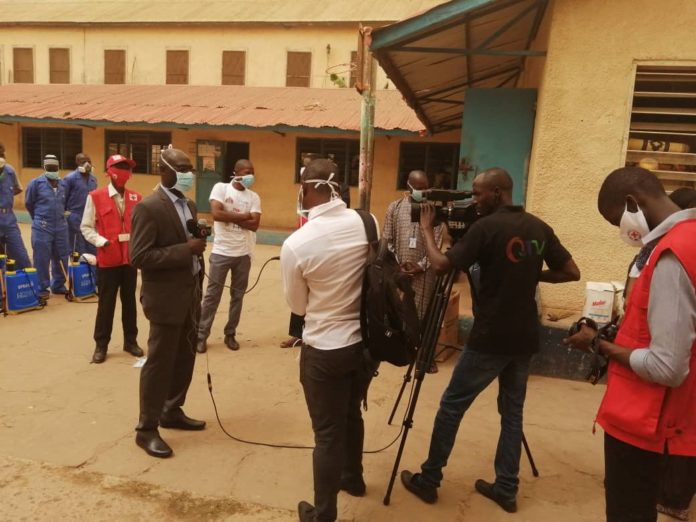 By Ndey Sowe
The fumigation of Schools to enable Grades 9 and 12 to resume classes and sit to their exams during this period of the Coronavirus pandemic has commenced on Thursday June 18th 2020. This is the beginning of the official launching of a nationwide fumigation exercise for all Schools across the country.
The exercise which is coordinated by the National Covid-19 Coordinator Alasan Senghore,
is jointly financed by Development partners, the Gambia Red Cross Society as well as the Ministries of Education and Health.
Dr. Buba Manjang, the Acting Director of Public Health Services at the Ministry of Health said they have targeted five hundred and five Schools across the country and will be able to cover them within five days.
Muhammed Lamin Jaiteh, Permanent Secretary One at the Ministry of Health remarked that "this initiative is a joint collaboration between the Health Ministry, Health Development partners and the Ministry of Basic and Secondary Education"; that they have been working with MoBSE to strategize the implementation of the fumigation exercise in preparation of the opening of Schools especially Upper and Senior Secondary Schools.
PS Jaiteh said about 7,000 teachers will be involved together with a good number of students who are ready to sit for their exams at the level of Grades 9 and 12.
He commended the UN fraternity, the fumigation team and the Gambia Red Cross Society for the noble gesture and support in financing the activity.
Adama Jimba Jobe, the Deputy Permanent Secretary at the Ministry of Basic and Secondary Education (MoBSE) said the number of people involved is far greater than any other sector, when dealing with Covid-19; that the targets are the Grades 9 and 12. Jobe concludes that the fumigation exercise will not only win the confidence of patients and society but will provide protection for the children.