By Kebba Jeffang
After securing his freedom from a Libyan jail, 21 year old 'maltreated' young Gambian has started shining in his alternative selected earning venture after his 'dream to Europe has been dashed.' Muhamed Alasan Bah has already saved D55, 000 as profit against a start-up capital of D7, 000 he invested in poultry farming within 7 months.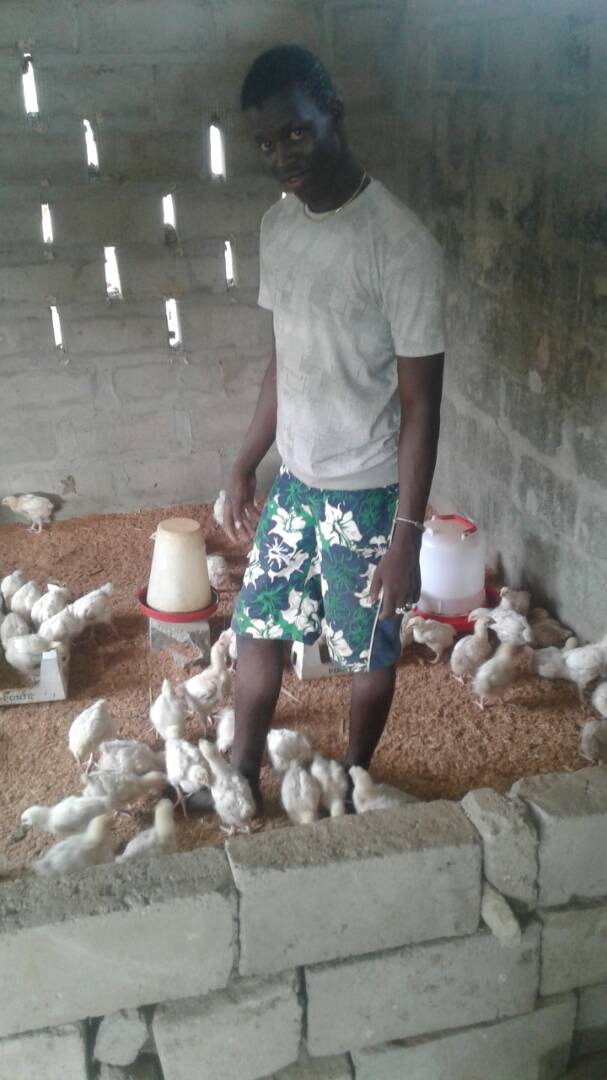 Bah who has lived without a father for 13 years, has been forced by stiff challenges of family realties to pursue his European dream through the 'back way', despite starting a higher learning course on Electrical Installation. Although the European dream failed, an alternative mission he has taken in his motherland is blossoming. This reporter met Bah at his family residence in Brikama on Wednesday, December 27, to share his experience on his travel ordeal and success upon arrival.
"I left here on 15th October 2016, with the aim of changing the situation for my family in Europe through Libya. I spent six months in Tripoli before coming back to the Gambia in March 2017. I was living in Grigarage, in the city of Tripoli," he said.
He said after reaching the city, the intention was to cross to Europe but they would soon be attacked by Libyan soldiers on the 14th January, 2017.
"We were taken to prisons and detained before we were later taken to the deportation camp. At this camp, if you do anything they feel unhappy about, they flog you," he explained.
Bah said every morning, they were given each half a loaf of bread, cheese, sun top juice and a small bottle filled with water as breakfast while rice and chicken are for lunch and dinner sometimes.
"I embarked on the journey because livelihood and other necessities were not easy to come by as a bread winner. Whatever I ventured into was never successful. Then I decided to leave for Europe to search for better luck and help my family.
Things were not easy for my family since my dad passed away in 2004. My road to be in Europe did not materialise even though I had already paid the boat that I was supposed to board in order to cross the Mediterranean. My payment coincided with the winter season and we were advised to wait. Unfortunately, during the interval, we were attacked and imprisoned," Bah narrated.
The situation did not however derail his path to solving the unsolvable equation of his family. He refused to be distracted and remained focus on making it without being in Europe.
"I know that Europe is not the only place for one to make it in life. When they informed us that we will be deported, I appreciated it because I was absolutely suffering. I realized that there was no way to continue and I cannot be imprisoned in someone's country going through all forms of unbearable maltreatment, when there is an opportunity available to return home. I prefer coming back even if I have to continue eating chaff but without any threat to my life," Bah said.
Bah who is just 21 years, held that no matter how difficult it is at home, his determination to do business especially in agriculture, will unlock his fortunes.
"I also understood that sometimes life is better outside but there is no place like home. While we were in Libya, we were beaten. We used to take our showers and access toilets at opened places. There was a time, we did not have proper baths," he said.
He said the authorities treated them so badly at the beginning of their incarceration and waited until they (the authorities) came to the conclusion that they were not going to make any attempt to escape from detention, and started to give them soap and other sanitary wares.
"While in the airplane coming home, I conceived an idea of what to do once I arrived in the Gambia. I started meditating the kind of business, how to go about it and the people I need to consult for the project. I came to a conclusion that poultry is a good venture in the country and it is not very common like other businesses," he said. According to Bah, this was why upon his arrival on home soil, he was able to start the business after consultation with his brother within just one month; that his brother supported him with 150 broiler chicks which he sold after two months to EMPASS in Farato.
"I invested D7, 750 to buy 150 broiler chicks in April, one month after my arrival and I gained a profit of D16, 000 excluding the expenditures. The broilers are fast because they need one month-two weeks to be mature and ready for the market, weighing two kilos. This is when they are well-fed. From April to now, I have sold three batches already. My second batch was 200 broilers. So far if you calculate my profits from the sales of these three batch of chickens in seven months, it is about D55, 000," Bah happily narrated.
He hinted his short term plan of transferring his business to Sanyang as he sets to expand the venture to an advanced scale. According to him, he is working on breeding layers and venture into horticulture.
"I am commencing that expansion project in Sanyang and I will soon be engaging the experts on recommending an ideal location and how the building should be constructed, considering ventilation and other things. When I move to Sanyang, I will expand to horticulture to help my business grow," he said.
"I no longer harbour my dream of going to Europe because I want to have my business well established here in my own country. As time goes on, it can even take me to Europe to attend conferences and other meetings and come back. I am no longer obsessed with this illusive dream of going to Europe anymore," Bah said with much determination.
He noted that although Government has promised to do certain things for them while in Libya as a way of bringing them back home; he said he does not care if they fulfil or renege on their promises. To him, his expectations are minimal from Government as he works towards achieving his set dream of becoming self-reliant.
"When we were at the International Organisation for Migration camp (IOM), the Gambian Consular in Libya visited us and said when we arrive, each will find something ahead," he added.
He said the Consular provided a code to each of them, indicating that each of us will have a luggage when we arrive. He added, "Up to now, we didn't see anything. The only thing given to us at the Banjul International Airport was D2, 500 each, as transport refunds to our homes".
He however said he has never lost hope because he placed his faith in God. According to him, God has already blessed his business because it is growing since he commenced; that he has even acquired a six-day certified training on business planning and management offered by EMPRTETEC.
After quitting his course on Electrical Installation at the Gambia Technical Training Institute (GTTI) last year for his unsuccessful journey to Europe, he has since his return resumed learning this trade again.
Facebook Notice for EU! You need to login to view and post FB Comments!