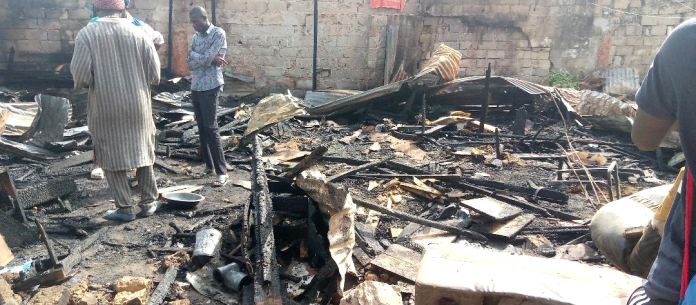 By Ndey Sowe
A devastating fire outbreak has consumed a whole carpentry workshop, destroying everything in it wake yeasterday Thursday 9th February 2023, in the morning. The devastating inferno has left Ebrima Faal, the owner of the carpentry workshop, totally devastated and left the neighbours in utter shock.
The incident is reported to have taken place early in the morning of Thursday 9th February at 7am in Churchill's town, when Faal was at home. However, despite the destruction of property, n lives were lost in the fire whose source cannot still be established, at the time of going to press.
Speaking to Foroyaa, Ebrima Faal who said he took the incident in good faith, said he received a phone call around 8 am, informing him that his work shop was on fire.
"I live very far because I live at Lamin Babylon and when I arrived on the scene, I found the entire workshop was consumed by fire, with the fire service at hand to put it off. However, by this time, everything item of the workshop was consumed by the fire to ashes. Nothing has been left. Not even a single plywood is spared by the fire," he said.
According to Faal, he still does not know what caused the fire because when he arrived on the scene, everything was burned to ashes. He said he can only speculate but he really does not know the cause of the fire outbreak which destroyed his workshop. He reflected that no one sleeps in the shop and there was nothing inside the shop that could cause the fire. He said he is shocked and has no idea as to what might cause the fire outbreak. That despite the efforts of rescue service workers who put off the fire, it had already consumed the whole workshop because of the plywood in the ceiling.
"We could not get inside to recover some of the items, because of the heat as it was extremely dangerous to get in," he said. He said he has lost all furniture including readymade ones for sale, and some new materials he bought to start other works. That he has lost many items including seven sets of sofas, and six beds that were ready for sale.
"I urgently need help from everyone especially the government through the NDMA and anyone who hears this news from anywhere," he appealed.
According to one eyewitness, someone raised that alarm when he went outside and saw the bellowing smoke rising from the direction of the carpentry workshop. That this was the time they rushed to the rescue in order to put off the fire.
The eyewitness said the fire rescue team tried all they can at their disposal, to put off the fire to no avail.
For any assistance to Ebrima Faal, the owner of the destroyed carpentry workshop, he can be reached on the following numbers: 2473520 or 3750510 or through Foroyaa Newspaper.