By Nelson Manneh
Three apartment line-houses, three bureaus and one electrical enterprise in Serrekunda, Kanifing Municipality, were recently consumed by a devastating fire incident.
The contents of the apartments, electrical enterprise, and bureaus, which included foodstuff, cash, household furniture, electrical materials, office furniture, and clothing, were totally burnt to ashes.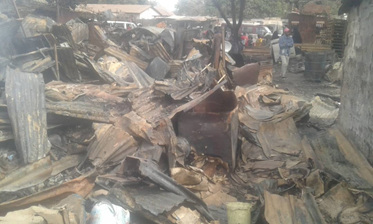 Alagie N Jaiteh, the son of the owner of the compound, said the fire incident started in one of their tenants' apartment and moved to the rest of the three apartments and shops, including the one they live in with his parents.
Jaiteh told this reporter that when the fire started, he was inside his room and before they realized that there was fire inside the house, it was already in the other apartments. He said they called for help and the neighbours came out to assist, but they could not salvage anything from the house and shops.
"Mt father had some foreign currencies and Gambian dalasi inside our house, but all were consumed by the fire," he said.
Jaiteh said currently his father and the family have moved to Bakoteh because they cannot renovate the house right now.
Samiu Oidowuu, a businessman whose electrical enterprise shop was also consumed by the fire, said he lost about four hundred thousand dalasi worth of electrical equipment during the incident.
The desperate businessman said his electrical enterprise was where he was generating income to taking care of his family, saying he is a Nigerian and he needs to pay rent and take care of his family.
Mr. Oidowuu called on government, NGOs and individuals to come to his aid.
Yorro Barry and Abdoulie Jallow said their shops were consumed by the same fire incident. All of them said their office furniture was all burnt to ashes.
"We were lucky that none of us was having money in the shop otherwise, it would have been a different story," they said.
Mr. Jaiteh and his tenants are calling on Government, NGOs and philanthropist to come to their aid. Any Samaritan, who wishes to assist, can reach them on the following telephone numbers: 7316660, 5161510 or 7510862.