By Nelson Manneh
Ebrima Touray, a 32-year-old male currently residing in Churchill's Town in the Kanifing Municipality, seeks medical assistance to facilitate his overseas treatment.
Ebrima Touray was involved in a car accident in Kiang in the Lower River Region of the Gambia on the 9th of October.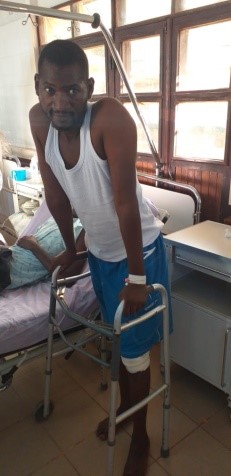 Touray who suffers from a severe leg fracture and chest and back pains, said since he was discharged from the Edward Francis Small Teaching Hospital (EFSTH) in Banjul but his health status has not improved.
"Since when I was discharged from hospital on the 27th of October 2019, my health condition has not been better up to date," he said. The 32-year-old said he wrote to the Ministry of Health seeking support for overseas treatment, but this did not materialize; that he wrote to the EFSTH to give him a medical report which he still awaits to no avail.
"My whole body pains me. I cannot get up from my sickbed by myself. My leg has multiple fractures from the accident and I was operated on. But up to now, I cannot work or do anything by myself," he said; that sometimes he finds it very difficult to raise his neck; that his body is always hot.
Ebrima calls on individuals, philanthropist and NGOs for help and any good Samaritan, who wants to assists can reach him on the following numbers: 7699578 / 7177437 or Foroyaa on 4380885.
If readers can recall, Ebrima Touray was involved in the car accident that took place on the 9th of October 2019 in the Lower River Region of the Gambia, claiming the lives of three people including GRTS Journalist Ceesay Sawaneh. Ebrima was one of the two other passengers severely injured and admitted at the EFSTH in Banjul. He was discharged on the 27th of October 2019.