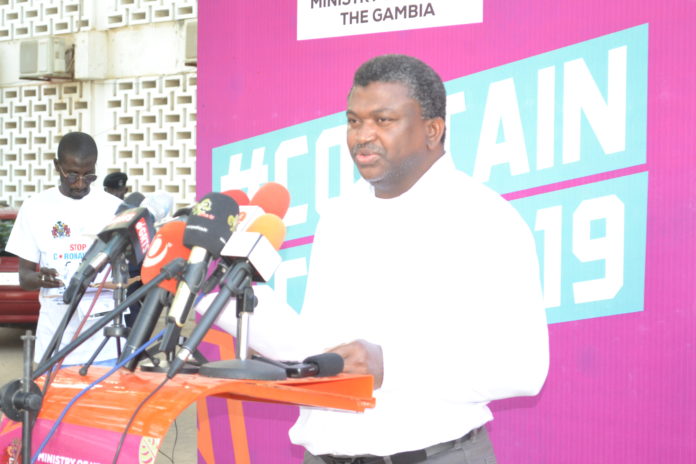 By Nelson Manneh
The Minister of Health Dr. Ahmadou Lamin Samateh has recently urged border Villages to strengthen their surveillance strategies and report all unofficial entries of people into the country.
"We wish to appeal to those around the borders to strengthening their surveillance strategies so that people entering into the country illegally are stopped and in conjunction with the security forces are returned or handed over to our people in our quarantined centres for quarantine," he said.
He said community surveillance is strengthened especially at the undesignated border points to prevent the unofficial entry of people from across the borders from Senegal coming in to The Gambia.
"We hope to continue the engagement of communities and Municipalities with regards to the preventive strategies and the containment strategies as well so that COVID -19 does not have a foothold in this country," he said.
Dr. Samateh said they have recently gotten donations of thermometers and these were being distributed to all their health facilities, points of entries and other places where there was a congregation of people like market places, the ferry terminals and so on.
The Health Minister said a lot of the donated items at the Kotou Central Medical Stores were distributed to the various health facilities which include buckets, disinfectants, other sanitary materials in addition to the personal protective equipment that were distributed to all their health facilities across the country.
"With COVID-19 and other infectious diseases, the practice is to have a special trained viral team and we also equally note that we have viral teams in the country and more and more people are being trained to acquire the knowledge in the provision of viral services when they are needed," he said.
He said his Ministry is also providing physio-social support to patients, their relatives, the people under quarantine and even to the health workers so that they can be able to understand the conditions they are all going through.
"Risk communication and community engagement activities are ongoing, a number of TV and Radios programs are being conducted over the past 24 hours," he said.
The Minister of Health said their press briefing will continue, communities and households are being sensitized on preventive measures using the existing communities' structures.
"There has been ongoing training for the regional RCC on feedback and reporting mechanism of affected populations," he said.
Dr. Samateh said there has been social media engagement by their people using various social media platforms to reach to many people as possible.
He said the homes of discharged persons that have recovered from COVID-19 were fumigated, that the contact person team has been strengthened and isolation centres that are established in various places in the health, facilities are being renovated and work is advance in the establishment of treatment centres across the length and breadth of this country.
"Newly recruited health personnel have also been posted to various health facilities to enhance the provision of the services in respond to COVID 19," he noted.