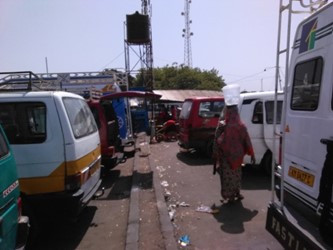 By Nelson Manneh
Passengers who ply the Brikama, Westfield, and Banjul route have lamented the irregular and inconsistent increase in transport fares, accusing commercial vehicle drivers of doing such on their own. The commuters call on the authorities to control transport fares across the country especially within the urban areas, where the people are exploited the most.
Several commuters who spoke to this reporter, said for over a month now, drivers have been increasing fares; adding the D18 they used to pay as fares from Brikama to Westfield, has now been increased to D20.
"We want the Government to put a system in place that will ensure that people are not exploited anyhow. It is unfair for drivers to just decide to increase fares like that without consideration of its economic consequence on us," some commuters told this reporter.
Binta Drammeh, a Brikama resident, told this reporter during her struggle to get a vehicle around Westfield that she stood for hours waiting because all the vehicles going to Brikama charge D25, which she said, is expensive; adding some asked for D50 as fares.
"Westfield to Brikama is normally D18 but drivers have decided to increase the fares. From Westfield to Tabokoto, they charge D10 and from Westfield to Lamin, they charge D15, which is unfair to us," she said.
Ms Drammeh said she has reported the matter to one police officer who was at Westfield, but the officer responded that he cannot do anything about it.
Commuters further described Brikama car park in Serrekunda as the worst place to be in the evening, when people can be seen moving up and down, and running from one vehicle to another, just to board a vehicle to go home.
Laman Darboe said if 5 o'clock meets one in Serrekunda, one has to pay D50 just to go to Brikama. Otherwise, one will not have a vehicle to go home.
"The authorities need to do something about this. Some drivers will tell you that they are going to Farato and from Farato to Brikama they charge extra fares," he said.
Mr. Darboe said Government should not live the transport system in the hands of the private sector alone; adding they should provide vehicles for commuters with reasonable fares.
Drivers, on the other hand, said fuel is expensive, and they accuse Government of increasing fuel prices frequently.
"If they want fares to be reduced, they need to look at the cost of fuel too," one Modou Fall, a van driver told this reporter. Faal said he spent more than two thousand dalasi daily on fuel, and urges Government to think of reducing the cost of fuel first before talking about fares. Many drivers who spoke to this medium made similar remarks.