By Makutu Manneh
The Chinese Embassy in The Gambia has celebrated the Chinese Lantern Festival on Friday 3rd February 2023 at their Embassy in Bijilo. The celebration took the form of cultural performances and a Chinese kung fu show by members of the Gambia Kung Fu wushu federation; poems and songs in the Chinese language by students of Nusrat Secondary School and the University of the Gambia Confucius Institute.
Liu Jin, the Chinese Ambassador to the Gambia, said they organized the festival at the embassy and invited Gambian friends to grace the occasion with them because he has seen so many Gambians who have shown interest in Chinese culture.
"I am very happy to see that so many Gambians are interested in Chinese culture and this is important for our bilateral relationship," he said. He said the relationship between Gambia and China has to be maintained to the level of people to people relationships.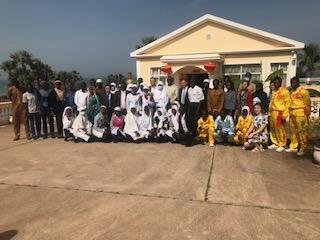 "Since the world is getting back to normal, I think we will have more chance to have the people to people exchange in the coming year," the Chinese Ambassador said. The ambassador said they plan to invite three hundred Gambians to China this year, for an exchange of program training and scholarships, and said such visits will consolidate the friendship between the two nations, and urge Gambia and Chain to work together in order to promote this bilateral relationship. He said the embassy has awarded a prize to the winner of the Chinese culture quiz competition which was organized in early January.
Georgina Riley, administrative assistant at the American Embassy and winner of the quiz, expressed delight as winner of the Chinese spring festival quiz.
"I have always been keen to learn about cultures of different countries from a young age and that is why when I saw the publication of the quiz competition, I did not hesitate to participate," she said. She said her most admirable thing about Chinese culture is the importance of family because the Chinese emphasise that 'whether you are rich or not, go home for the Chinese new year.'