By Mustapha Jallow
A 36-year-old man was on Saturday found death in Kiang forest after he was said to have be caught in a huge bushfire.
Lamin Jammeh, a native of Kiang 'Wurang' Central who was engaged in fetching firewood and selling them for survival, was reportedly missing on Friday after leaving his home for the deep forest.
His remains were discovered at least 100 meters away from a heap of wood he had gathered. Residents believed that the poor man was trying to escape wildfire and died in the process.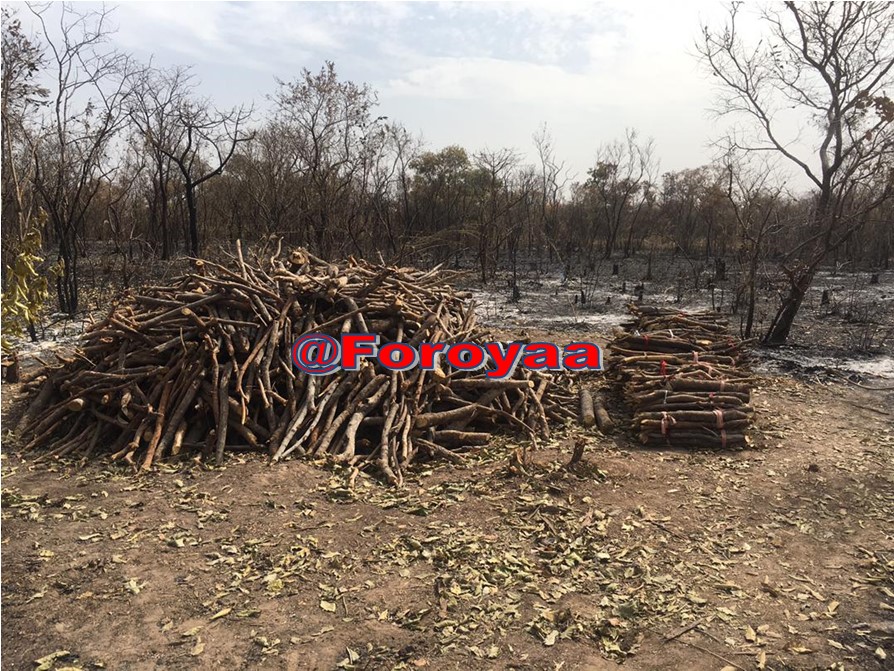 Jammeh's charred corpse was laid to rest. His relatives ensured he was immediately buried because the state of his remains would not allow them to perform with Muslims rites.
Upon visiting the victim's compound, relatives, friends, neighbours, Alkalolu, chiefs, and Government officials were seen trooping in and out of the house to show their sympathy and offer prayers to family members. Some, who were in tears, described Jammeh as a hardworking young man.
Around 1pm, reporters were led where the incident occurred. Almost the entire forest caught fire. Even at that moment, most of the trees were still burning.
It was also observed that Jammeh's pile of wood was not burned by the inferno. The pile of wood was estimated to be about 100 kilometers away from where the deceased was found lying death. His remaining clothes, watch and 'jujus' were seen where the fire killed him.
Residents suggested that this type of huge bushfires used to come yearly and up to date, they do not know the cause of the inferno. They described it as the wildest fire outbreak in the country that usually kills human, small ground species, farming crops- including trees etc.
They said the Thursday fire came from neighbouring Kiang Kwinella – the usual route of bushfires. Thus, they strongly believed somebody could be behind this.
Giving an account of the incident, Farry Jammeh, an uncle to the deceased, said Jammeh didn't return home on Friday, so they thought he went to attend a funereal at the next village-Dumbuto.
"We called someone in the village to enquire about him, but surprisingly we were told that he was not there," he said.
The family then began a search for him on Saturday when he failed to return home, according to the uncle. He said they asked one of his friends who later informed them where Lamin told him he was going.
The uncle said a team of young people and elders were dispatched into the forest to look for him, saying some they went as far as the beach side. He said upon a thorough search, Lamin's charred was later found in the bush.
He said there are doubts surrounding his death because the fire didn't catch the heap of wood Lamin gathered. He continued to say that they decided not to touch the body and inform the Police first.
Jammeh said the Police arrived with some health officers and they asked the officers to help bring the remains for instant burial, which they complied with.
Lamin left two kids behind. The youngest among them is a one-month-old baby girl. The wife was away on a family visit when the incident occurred.
Jammeh called on the authorities, especially the fire fighters officials to come and rescue them anytime such fire attack their land. He said the fire makes live difficult for them with sleepless nights, saying they are not safe because the fire can break anytime.
Jammeh further called for a task force to be constituted to probe into the cause of these bushfires.