By Nelson Manneh
'Aspuna' Flour Company established in Duwasu village in Kombo East District of the West Coast Region, has started processing cassava into flour. According to the proprietor, the establishment of the Company is to impact on the lives of the people by processing their farm produce.
Amadou Jah the country Director of the Company, yesterday July 24th 2018, said he has already employed twenty people, to test his machines and the outcome of the processed products.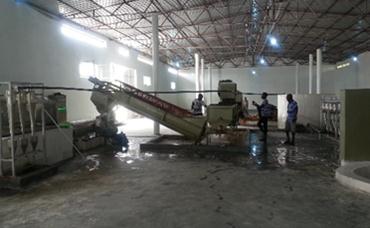 ''My aim is to make sure that Gambian youth stay in the country and make a decent living. The reason why the youth migrate is because they are not provided with job opportunities in their mother land,'' he said; that the products from his Company will be distinguishable through their sourcing and processing methods; that they have made strong and fair partnerships with local small holder farmers and suppliers.
Jah said the Company can process 1000 Kilograms of cassava into flour within one hour for a start and that all those employed, are people residing in and around the village.
"I want to discourage rural / urban migration. I want people to stay in their various villages and be employed there. The only challenges I face now is the Know-how. The unskilled people are available but people with the know-how are not. Our country's youth should learn skills. This is a big challenge for our youth," he said; that after the Chines have fixed the machines and left, he could not get anyone to take care of them; that has to go outside and get the right people to do the work.
Jah said the other challenge he faces is lack of electricity in the village; that he spends D3, 000 daily on electricity and urges Government and NAWEC to support him by bringing this important utility service to his door step.
"The waste that comes from cassava can be transformed for use, as animals feed and fertilizer," he said.
Isatou Camara, an employee, said the Company has made life worth living for them, by establishing right in their midst; that since its establishment, villages have never complained about its presence or any negative impact from that has affected the environment from the factory. "People from different villages in this surrounding are employed in this Company, and making a decent living close to their families," she concludes.