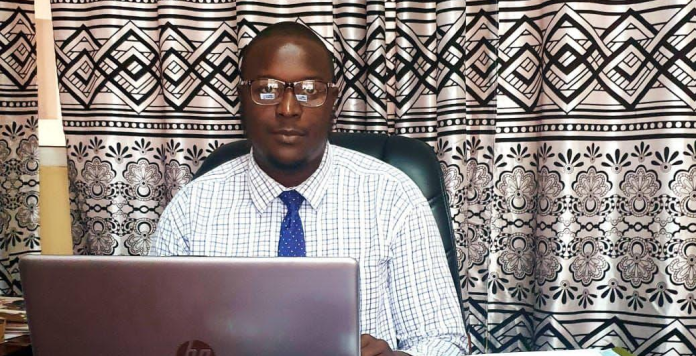 By Mustapha Jallow & Fatoumatta Conteh
Abukakar Darbo, who was recently appointed as Director General for The Gambia Radio and Television Services (GRTS), on Thursday, 16th February 2023, received a letter rescinding his appointment.
When asked about such a U-turn from the government, Darbo laughed and said: "Yes, I have received a letter this morning (16th February 2023), that my appointment has been rescinded. I thank Allah Subhanahu Wa Ta'ala for everything. For me, what Allah decides is what I pray for. Allah Subhanahu Wa Ta'ala is in control of everything, so whatever He decides that's the best for me.''
"I'm also thankful to everybody for their solidarity, especially the appointing authority for the trust they have in selecting me and life continues. Sometimes Allah does things that you like but they are not good for you. There are certain things that you hate but they are in your best interest. So, we should put our trust in Allah Subhanahu Wa Ta'ala and know that what Allah destined is the best for us. And for me, that's how I take it,'' said Darbo.
Notwithstanding, Darbo has called on Gambians to focus and contribute more in building the nation which each citizen has a role to play.
"We have a nation to build. Each and every citizen of this Gambia has a big role to play. Don't underestimate what you can do; just do whatever positive you can that will help in bettering the country. We can do that by supporting the government in achieving its objectives, regardless of where you belong,'' he urged.
"For me, I'm an academic and a lecturer at university and that's why I always tell my students and all those I interact with that 'we all have a role to play in our societies, families, homes and countries'. When Gambia is good, it's good for all of us. And when [Gambia] is bad; it is bad for all of us. Therefore, let's act progressively.
Meanwhile, Mr Darbo received his appointment letter on 8th February, 2023. He was due to take up office on March 2nd 2023, following the expiry of the contract of current GRTS's DG, Malick Jeng.
But hours later, Darbo was phoned only to be told verbally that his appointment has been rescinded. This came when Yankuba Saidy, permanent secretary at the ministry of information, also received a verbal order from the chief of staff at the Office of the President (OP) in State House to extend the message to Darbo.
PS Saidy on Wednesday confirmed to Foroyaa that his ministry too received an official letter from the OP on 13th February 2023 to rescind Abukakar Darbo's newly appointment as DG for GRTS.
"We received the letter from the Office of the President and responded accordingly. We also conveyed the letter to the right constituency (Abukakar Darbo). The letter was dated Friday, on the 10th February 2023, but we received it on Monday, 13th February 2023. I had to convey the letter the same way as I did on the new appointment letter that was sent to Darbo. I had to convey it again,'' explained PS Saidy.
Initially, Lamin Queen Jammeh, the minister for information told this paper that the appointment of Darbo has been put on hold due some administrative issues.
Darbo was to replace Malick Jeng, the current DG of GRTS, whose appointment soon expired.