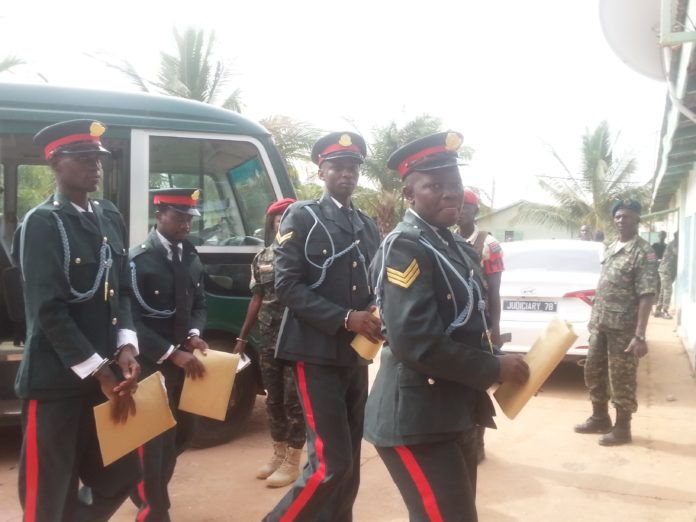 By Nelson Manneh
The absence of the President of the General Court-Martial, Colonel Salifu Bojang, has impeded the trial of the twelve soldiers facing nine counts which includes treason and mutiny, at the Court Martial.
When the case was called before the Judge Advocate Justice Sainabou Wadda Cisse and four other panelists, the president of the Court Martial Colonel Salifu Bojang was no were to be seen.
The Deputy Director of Public Prosecution Lawyer MB Abubakarr, Defence Lawyer SK Jobe and four other Defending Officers and the twelve accused persons, were present.
The twelve accused persons who are all members of the Gambia Armed Forces, face charges of treason, incitement to mutiny, failure to report mutiny, conspiracy to commit mutiny, endeavor to persuade members of the Armed Forces to take part in mutiny, negligence or wilful interference with Lawful custody and connivance of desertion.
The twelve soldiers are Captain Yaya Jammeh, Lieutenant Abdoulie Jarju, Lieutenant Yaya Jammeh, Sergeant Baboucarr Sanneh, Sergeant Malick Bojang, Corporal Sulayman Sanyang, Corporal Lamin Gibba, Corporal Ebrima Jallow, Lance Corporal Samboujang Bojang, Lance Corporal Abba Badjie, Private Mbemba Camara and Private Alieu Sanneh.
The eighth and ninth accused persons, Corporal Ebrima Jallow and Lance Corporal Samboujang Bojang, are charged with negligence and wilful interference with Law but were denied bail following application by defence Lawyer Sheriff Kumba Jobe, who argued that the offences are bailable. The application for bail was objected to by State Prosecutor A.N Yusuf. The bail was denied.
The matter is adjoined to the 7th day of May 2018, at 10 am for continuation of hearing.