By Sulayman Bah
That controversial Ousman Jallow title-winning last-gasp goal will forever be heart-wrenching to Ghanaians.
Before then, Ghana had won the African Youth Cup twice first in Mali in 1995 prior to bettering their third-place in the subsequent edition in Botswana in 1997 to actually clutch gold again this time in 1999 when Guinea Conakry hosted it.
The Black Starlets, on this backdrop, were no minnows or pushovers and looked poised for a third conquest which would have been a record….then Gambia applied the brakes to that feat.
Statistics dug up by Foroyaa Sport show that Cameroon, Ghana, Nigeria, Mali and Gambia are the only ever outfits to have lifted the gong on two occasions.
Run up to this, Gambia's football was graveyard-bound and sure into the deep waters of oblivion until the hiring of the late Fred Osam-Doudou –Ghana's reservoir of youth football –as gaffer via Gambia's Olympic bureau on a one-year contract.
'The prophet never exalted at home', fittingly described Doudou, who departed Ghana for Gambia after feeling loathed by his home country's FA and accused by fans there of not having 'functioning eye' for the game.
Paradoxically, Fred Osam's acceptance of Gambia's offer was a mission to prove his compatriots wrong, later marking beginning of his first step towards a march to national hero status away from Accra –Gambia to be exact.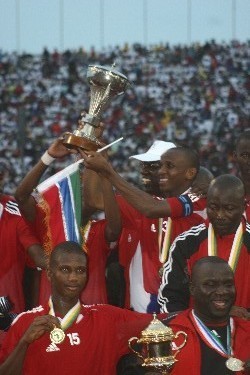 More telling of a sweet tale of revenge would be Fred's swaggering over his own country Ghana by his much disciplined Gambia U17s in May 2005. Momodou Ceesay had marshalled his opponent to receive a throw-in from the right. The lanky striker, typical of his play trademark, forced a run at edge of the Ghanaian penalty area to whip in a boisterous cross that beat the on-rushing Black Starlet defender, teasing towards Ousman Jallow who out-jumped his marker, planting a header inside the stunned Ghanaian goalkeeper's net. Replays showed an unidentified fan hand-smacking the ball into the goal mouth in a Maradona-like hand of god goal. Chaos reigned as aggrieved Ghanaian players stormed towards the direction of referee Paul Phomame from Ethiopia, who to the consternation of the visitors but to the delight of home fans, stood by his goal decision as the Independence Stadium erupted in rambunctious celebrations.
That netting, which the Ghanaian press back home mocked a ghost-goal, guaranteed the Baby Scorpions the Africa U-17 title at the first time of asking. The same Gambian outfit qualified for the U-17 World Cup in Peru that term, savaging Brazil 3-1 before crashing out of the tourney. Coach Osam would return to Ghana at elapse of the global event contended at accomplishing his task of shaming his doubting compatriots. Pundits who derided or questioned his credentials were forced to down their words.
14 years on this month from that feat, Foroyaa Sport takes a look at what became of each 2005 Baby Scorpion.
GOALKEEPER ABDOULIE NJIE: He was a solid pair of hands, poised for European football and would have become the third Gambian net-minder starring abroad taking after Pa Dembo Touray and Musa Bajaha. However, that dream hit the brick walls. Today, he is with local club Real de Banjul as a goalkeeper coach.
OUSMAN KOLI DEFENDER: Now 31 years, the Bakau-born started with Bakau United then crossed the divide to bitter rivals Steve Biko FC whom he captained for many seasons. He formed nucleus of that 2005 defence and is not out of his comfort zone starring on either side of the back-four including in a defensive midfield role. He blossomed lately compared to his more successful U-17 comrades, signing a foreign contract with second tier Druga Liga of Slovenia in 2011 after first spending time in France . Sencur in the top flight of the same country followed. Football stints in Bangladesh, Malta, Bosnia and Sweden in 2018 became his next destinations before his retirement. Also called Dall Mat, Ous is capped eight times for Gambia's seniors.
MANDOU BOJANG DEFENDER: The erstwhile Gambia Ports Authority defender was a squad integral in that 2005 triumph following that up with a brilliant performance in the U-20 in the African and World Cup 2007 championships. He was last heard of in 2009 on the back of unsuccessful trials with LA Galaxy of David Beckham and the Seattle Sounders in the US Major League Soccer.
ALHAGIE AMADOU NGUM DEFENDER: Very suitable in the heart of defence and as a right-back, a role he played for the U-17, Ngum also called Alagie Basse, transitioned to the U-20 national team that played in the Toronto Youth World Cup. He bagged a two-year course at a college in the UK and reportedly auditioned with Portsmouth Academy before returning to hang up his boots with Gamtel FC in whose technical bench he now sits.
EBRIMA SOHNA: A specialist in combative football, Sohna is the epitome of a die-hard. His devoid of skill is complimented by his workaholic approach, tackles and interceptions. Now 31, an ex- Wallidan and Steve Biko midfielder, Ebrima was tipped to be a like-for-like replacement for Claude Makalele by Chelsea's Jose Mourinho. He was one of those close to inking a Chelsea contract to be loaned to Belgium for his development but astronomical transfer fee demands by his Gambian employers reportedly ruined the deal.
TIJAN JAITEH: Initially one of the most successful of his generation of U-17 stars, Tiju impressed Norwegian outfit SK Brann Bergen to sign a deal out of a number of Gambian trialists.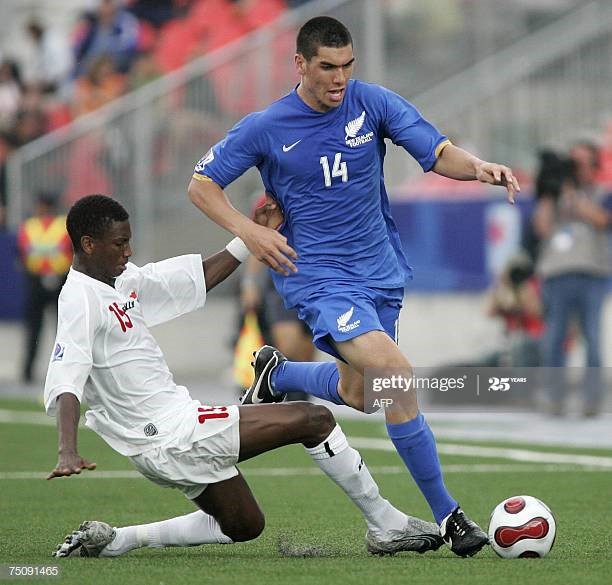 Now 31, the brilliant box-to-box midfielder later moved to Denmark, Slovenia, Finland, Israel, Qatar to Albania winning three league titles in the process. He is without a club this moment after leaving Partizan August last year.
ABDOULIE KEN MANSALLY: Similar age with Sohna, Jaiteh, winger Ken joined Major League Soccer side Newengland Revolution without even returning to Gambia after the Canada World Cup as a developmental player from Real de Banjul in 2007. After four seasons there, he switched to Real Salt Lake, Houston Dymanos before testing himself in the Finnish top tier with Kemi Kings, Inter Turku with whom the scooped the Finnish Cup. US second division side Charlotte Independence then clamoured for his services lasting for twelve months. He is club-less this minute after 16 caps for Gambia's senior team.
SAINEY NYASSI WINGER: A Bwiam-born, he joined Mansally as teammates at Revolution from Gambia Ports Authority in 2007 after the Canada youth games. After six spells with the Revs, he swapped the Guilltete Stadium for DC United in 2013 before leaving at elapse of that football term.
FC RoPs of Finland became his next destination, a side he left after nine months for Canadian outfit FC Edmonton December 1st 2017. He is without a club at 31 with seven caps for Gambia's senior team and one goal coming in the 3-1 win over Namibia in 2010 under coach Paul Put.
CAPTAIN OUSMAN JALLOW: Ous is a household name and the leading goal-scorer, on three goals, of the 2005 U-17 African championship that Gambia won at home. He has two youth World Cups to his name much like the aforesaid seven players.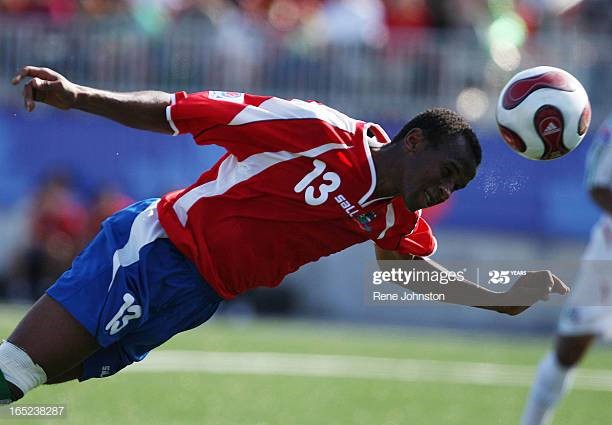 Ousman could have been an Arsenal FC player but Arsene Wenger was stopped from signing him due to work permit issues coalesced with Gambia's poor ranking on Fifa. Consequently, he had to go to Al Ain in UAE then Morocco on for a brief loan. Brondby of Denmark, Turkey, Finland on two occasions, Bangladesh and of recent Cypriot are the other stints he had had. UAE wanted to have him naturalised offering huge sums as enticement but he turned it down opting to play for Gambia. He has 88 career goals, two with the national team and five with the U20s in 2007. Ous has 14 senior caps, three league cups to his credit but without a club this minute.
SANNA NYASSI WINGER: Twin to Sainey Nyassi, Sanna has a longer career than his partner. Like Sainey, his career teed off at Gambia Ports Authority, to the Gambia U-17 and U-20 then to the national team. The fast winger grabbed Gambia's only goal in the 69th minute in the slender triumph over Burkina Faso in Bakau.
Nyassi signed a deal a year later after his twin Sainey inked the dotted lines with the Revs. By contrast, he had a more illustrious career than his twin in the MLS and was one of the best paid Africans there, starring for Seattle Sounders, Montreal Impact, Colorado Rapids, Chicago Fire, San Jose Earth Quakes and Penang of the Malaysian Super League last year. He has 33 career goals and is capped 13 times for Gambia scoring once for the Scorpions against Tunisia in a friendly following his debut in 2010.
MOMODOU CEESAY STRIKER: Zico was one goal shy of equaling Ous Jallow in the 2005 U-17 African Cup, scoring twice; first in the 59th minute as the Baby Scorpions sent Mali packing 3-2 after Ousman Jallow's 50th minute penalty opening goal and the second arriving in the 51st minute against South Africa in the semi-finals. South Africa's Sibeko first plundered in the opener before Sainey Nyassi evened it up in the 48th minute and Ceesay adding the second and final goal. In build-up to that goal, he got tackled around the knee in an injury most say haunted him for majority of his career.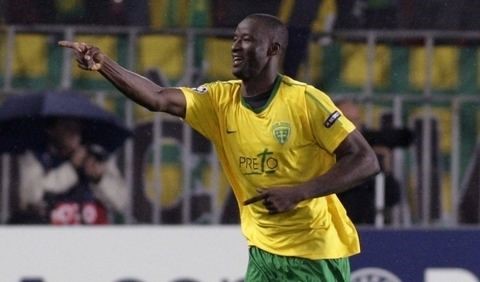 He is one of those 'could have been' Chelsea players but Mourinho opted against signing him due to exorbitant demands by his then club Wallidan, according to the late Omar Sey. Considering his Uefa Champions League appearance, the third Gambian ever to feature at this stage of European football then, Ceesay is one of the most successful when compared to his fellow 2005 U-17 peers. After failing to cut his teeth in the Swiss game with Grasshoppers FC and in Belgium, he tried Slovakia with little known MSK Zilina whom he won the domestic cup for and single-handedly helped qualified to the Uefa Champions League with his acrobatic game-winning effort in the play-off finals against Sparta Praha in 2010. Zico has forty-two (42) career goals five of those with the national team, making him Gambia first team's all-time joint highest goal scorer along with Assan Ceesay who is poised to upstage him.
Ceesay is still playing in Kazakhstan's Premier League despite battling niggling injuries.